Robots work at computers.
Robots could be the future of the hotel service industry. Huis Ten Bosch, a Japanese theme park, is working to open a hotel that will be mostly staffed by humanoid robots, according to CNN. The Henn-na Hotel, which roughly translates to "Evolve Hotel," is set to open this July and looks to change the customer service experience. The hotel will be introducing highly intelligent robots that are capable of helping guests check in and out and address any issues that they may have, all while participating in stimulating conversation.
Aiming to take strides in improving overall efficiency, the Henn-na Hotel plans to expand the robot portion of its staff until it's at a vast majority of 90 percent. The robots will also fulfill roles as porters, house-keeping and other areas that are required to maintain a high level of hotel customer service. For its July opening, the two-story Henn-na Hotel will provide access to 72 rooms, which potential guests can begin to reserve online now. In 2016, another 72 rooms will be made available upon completion of the second phase of construction.
"In the future, we're hoping to build 1,000 similar hotels around the world," says Huis Ten Bosch president Hideo Sawada.
As of now, the hotel plans to distribute rooms through an online bidding process. Reservations will be delivered to the highest bidder, although there will be a pre-set price cap, instead of a traditional first come, first serve system with a fixed price.
The price for a single room will start at around $60, or the equivalent in Japanese Yen (JPY 7,000) and around $153 (JPY 18,000) for a triple room.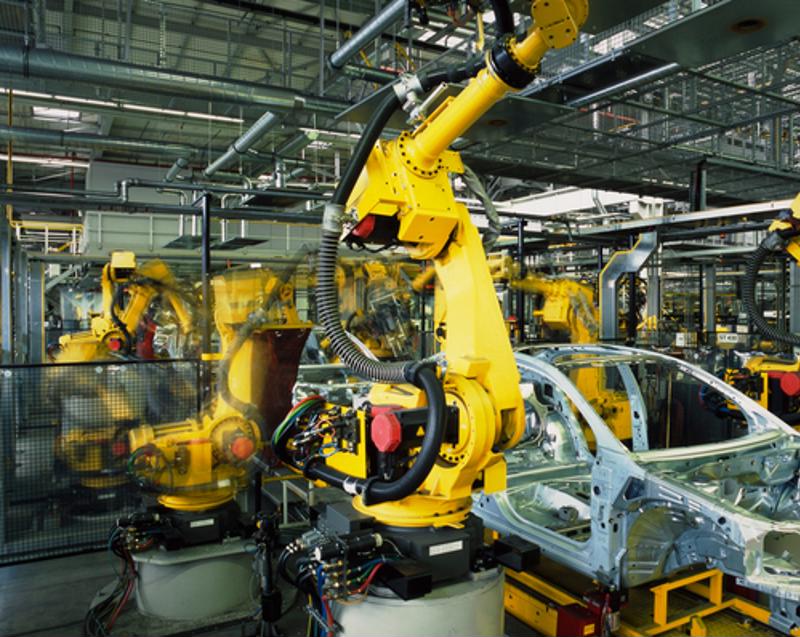 Robots work on an assembly line.
Expense saving advancements
​Although the decision to replace staff members with robots may not pick up quickly in other parts of the world, the Henn-na Hotel is also partaking in other innovative strategies. Hotel executives aspire to promote the use of environmentally friendly, state-of-the-art technology at a low cost, which could make appearances in a lot of leading tourist centers. The innovations include the following:
Guests will be able to access their rooms through facial recognition system, making key cards obsolete.
A heat transmission panel in each room will detect the guests' body temperature and adjust the temperature of the room accordingly, thus removing the need for air conditioning and heating.
Rooms won't come with a standard set of amenities, given that the hotel is geared towards overnight stays. Guests can request what they feel they need through a tablet which they can find in their room.
Solar power will be implemented to cutback on energy costs.
​Robots in other areas
They may not be looking into having robots be the first things that guests encounter upon arrival, but businesses in other parts of the world are also looking into adding them to their staff. The Aloft Hotel in Cupertino, Calif. has been working to introduce two "Botlrs" to its staff to assist in room service. Back in 2013, Rethink Robotics introduced a new robot named Baxter. Baxter originally came with the ability to pick up items, receive a signal telling him where they should go, and place them in the right order on a conveyor belt. With the original intention of working on assembly lines, Baxter has grown to be capable of more than lifting and placing obscure objects. He can now also work in packaging and tending to machinery, all for the low cost of $22,000.

"Could [Baxter] be a barista?" asks Scott Eckert, CEO of Rethink Robotics when speaking to CNBC. "It's not a target market, but it's something that's pretty repeatable. Put a cup in, push a button, espresso comes out, etc. There are simple repeatable service tasks that Baxter could do over time."
Lowe's has also looked into adding a team of robots, called OSHBots, to its sales floors in hopes of increasing its customer service delivery.
"Could Baxter be a barista?"
Public response
The possibilities are endless for Baxter, "Botlrs" and other robots of their ilk. In the coming years, customers could see their descendants greeting them as they walk into department stores, working at public transportation stations or, maybe, even assisting in childbirth in hospitals. While businesses look to improve their improve their overall efficiency by introducing low-cost robots, customers are concerned about the loss of the human element in their transactions, as well as the jobs that will be lost as a result.
"When machines and robots start taking over service sector jobs, that's when we'll really start to notice," says Martin Ford, robotics expert. "If you're making hamburgers or Starbucks drinks, that's really just high manufacturing."
The idea of running a hotel operated mostly by robots is no longer a farfetched fantasy that couldn't be achieved for decades. Any time now, you could check into a hotel and have a robot check your bags, escort you to your room, deliver your meals and clean up after you leave.
RELATED POSTS: