Many purchases are now being made exclusively through smartphones.
In October 2014, Apple unveiled its new mobile payment service called Apple Pay. The announcement from the smartphone tycoon signaled a new era in consumer spending, in which customers can now refrain from bringing their wallets along and purchase anything from participating retailers with the scan of a phone. According to the Wall Street Journal, there are around 220,000 stores and restaurants that currently are compatible with Apple Pay, and while the service is only available in the U.S., Apple is now eyeing expansions for the payment option in Canada and China.
One of the primary markets that many are viewing as a potential advantage for using Apple Pay or other forms of mobile payment software is the travel industry. If more establishments around the world begin to allow mobile payment as a means of purchasing products and services, it would eliminate a wide variety of money obstacles commonly associated with traveling. For instance, there would potentially be no need for currency conversion, as everything would be translated through the smartphone. Other dynamics, such as traveler's checks or prepaid debit cards would also become obsolete. One airline in particular has recently set the bar for what could become the future of travel spending.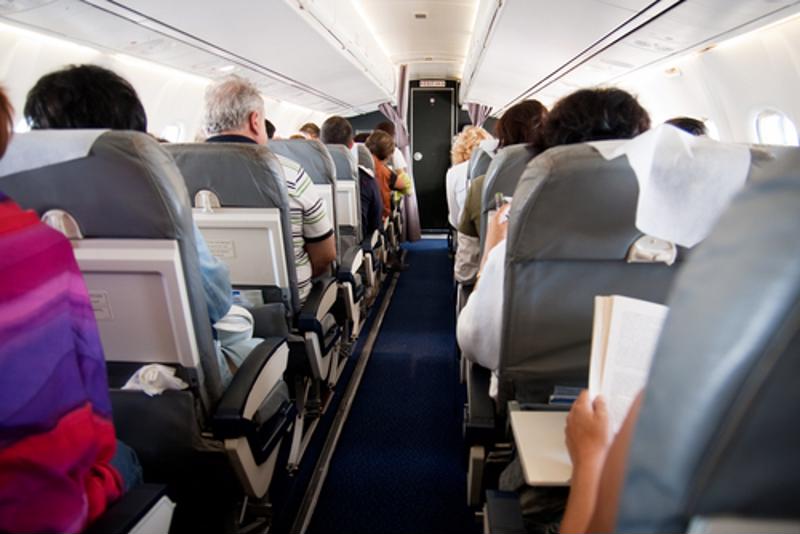 JetBlue announces acceptance of Apple Pay
The lower-fare-focused airline JetBlue has recently revealed that it will be the first airline in the world to start accepting Apple Pay for in-flight purchases. Whether it be for buying a snack, ordering a cocktail or upgrading to a better seat, passengers can now scan their smartphone as a feasible form of payment. The company insists the decision is more travel-friendly, as phones seem more accessible today mid-flight rather than wallets.
In addition to Apple Pay acceptance, flight attendants will be equipped with iPad tablets to process the payments. What works great with the tablets and phones is that no Wi-Fi connection is necessary to approve a purchase, and the iPads will also be able to accept credit and debit cards. How it works is simple: Once you've made an order, you will raise the smartphone against the flight attendant's tablet while simultaneously holding your thumb on the Touch ID fingerprint button feature on the phone. The transaction will be immediately recognized, and a receipt will be emailed to you afterwards.
Mobile payment for business travel
Another one of the industries that is expected to heavily use forms of mobile payment within the next few years is business travel. As of January 2014, the Pew Research Center reports that nearly 60 percent of all American adults own a smartphone, while Gartner has stated that close to 40 percent of U.S. employees of large enterprises personally own their own smartphone. These numbers are only expected to increase, and with that, the amount of traveling these employees will have to endure is also anticipated to enlarge.
The trend of mobile payments in the business world has already existed for quite some time. A recent industry report conducted by AirPlus International discovered that approximately 51 percent of companies around the world are currently using mobile solutions for everything from expense accounting and tracking budgets to hotel and flight booking. The report also indicated that more countries are beginning to open up to the idea of solely using mobile payment for business-related purchases, as 73 percent of travel managers in China, Singapore and Australia find themselves "optimistic" about the future of smartphone accounting and purchasing.
"Tracking and monitoring expenses will be a top priority for traveling employees."
Other industry experts are predicting that the amount of traveling employees are going to have to embark on for work is only expected to increase in 2015. According to a survey produced by the Global Business Travel Association, while U.S. business travel ended 2014 with a record breaking spending number of $292.2 billion, that number is expected to rise 6.2 percent up to $310.2 billion in 2015. Tad Fordyce, head of global commercial solutions for Visa, was sourced in the survey, indicating that tracking and monitoring expenses will be a top priority for companies managing employees on the road and through the air in 2015.
"With US business travel spending forecast to hit record levels in 2015, corporate travel managers have more need to improve business travel expense reporting and tracking," Fordyce said in a statement.
What are the traveling advantages to mobile payment?
Convenience appears to be just one of many perks provided to travelers when using forms of mobile payment. Whether you're taking a client out to dinner for your company or you're simply trying to keep track of if you can afford another day at the theme park for the kids, monitoring a budget is always a concern for all travelers alike. When using a mobile payment app such as Google Wallet, you can instantly log any purchases you make during your trip, and the service will automatically update you with all your previous transactions and how much money you have left on your spending budget. Google Wallet, as with Apple Pay, is currently accepted exclusively in the U.S., but it's still available in hundreds of thousands of retail stores, restaurants and attractions across the country.
Security is also another perk that many mobile payment services are boasting to its users. For starters, before making a purchase, Apple Pay requires either a customized passcode set to your device or a Touch ID scanning of your thumb. Once you've provided your debit or credit card information for Apple Pay, the data is sent and saved to Apple servers in encrypted code, and that information cannot be obtained through either your smartphone's software or any cloud-storing services. Even if you lose your phone on a vacation or a business trip, you can immediately log onto Apple's website, enter all your personal and security information and suspend or delete any bank usage or data on your phone until it is retrieved. These are just a few of the features that are signaling a change in the way we might manage our spending during travel.
RELATED POSTS: